Dvele ADUs and Small Homes
5521 La Jolla Blvd
La Jolla, CA
92037
Prefab Build Type:

Finished Modules

ADU Delivered As:

Finished Modules

ADUs Built:

>200

ADU Availibiity:

Nationwide U.S.
Base Price:

$261 - 430/sf

Total Price:

$/sf

Time (design to move in):

7 mos
Dvele designs and builds modern luxury modular homes. Dvele focuses on building homes that are very highly energy efficient and can be "self-powered" via solar energy. In addition to building efficient homes, Dvele aims to create smart homes that are not only easy to use, but create and use data to improve safety and quality of the living space.
Dvele was founded by brothers Kurt and Kris Goodjohn who previously founded since acquired Karolenna Homes. Dvele's offices are located in San Diego, CA with a production facility located in Loma Linda.
Dvele Homes Feature:
High energy efficiency with thermal envelope and high insulation levels with Passive House (PHIUS) certification
Solar energy powered – off grid options
Smart home (DveleIQ) – real-time data monitoring of; air quality, radon, building structure
Embedded home automation with Sonos, Next, eero, and Lutron products
High air quality – HEPA air filtration and active air and energy exchange system (ERV)
High water quality – multistage filtration, conditioning and UV sterilization
High quality construction – air-tight envelope, ventilated rainscreen wall design
"End-to-End" project management – no need for third party contractors
Dvele Brochure
ADU Base Price ($261 - 430/sf) Includes:

Framing, Sheathing, Insulation, Siding, Roofing, Exterior Trim, Interior Trim, Windows, Doors, Flooring, Cabinets, Counters, Drywall/Paneling/Wall covering
Full Kitchen (oven/range, microwave, hood, refrigerator, dishwasher, sink disposal)
Washer and Dryer Rough-in connections
Complete Electrical (rough-in, switches, receptacles, lights)
Complete Plumbing (rough-in, fixtures, faucets, toilets, sinks)
HVAC (heating, air conditioning, air exchanger)
Solar (pre-wiring only)
Dvele ADU Models
Tenaya Modern Cottage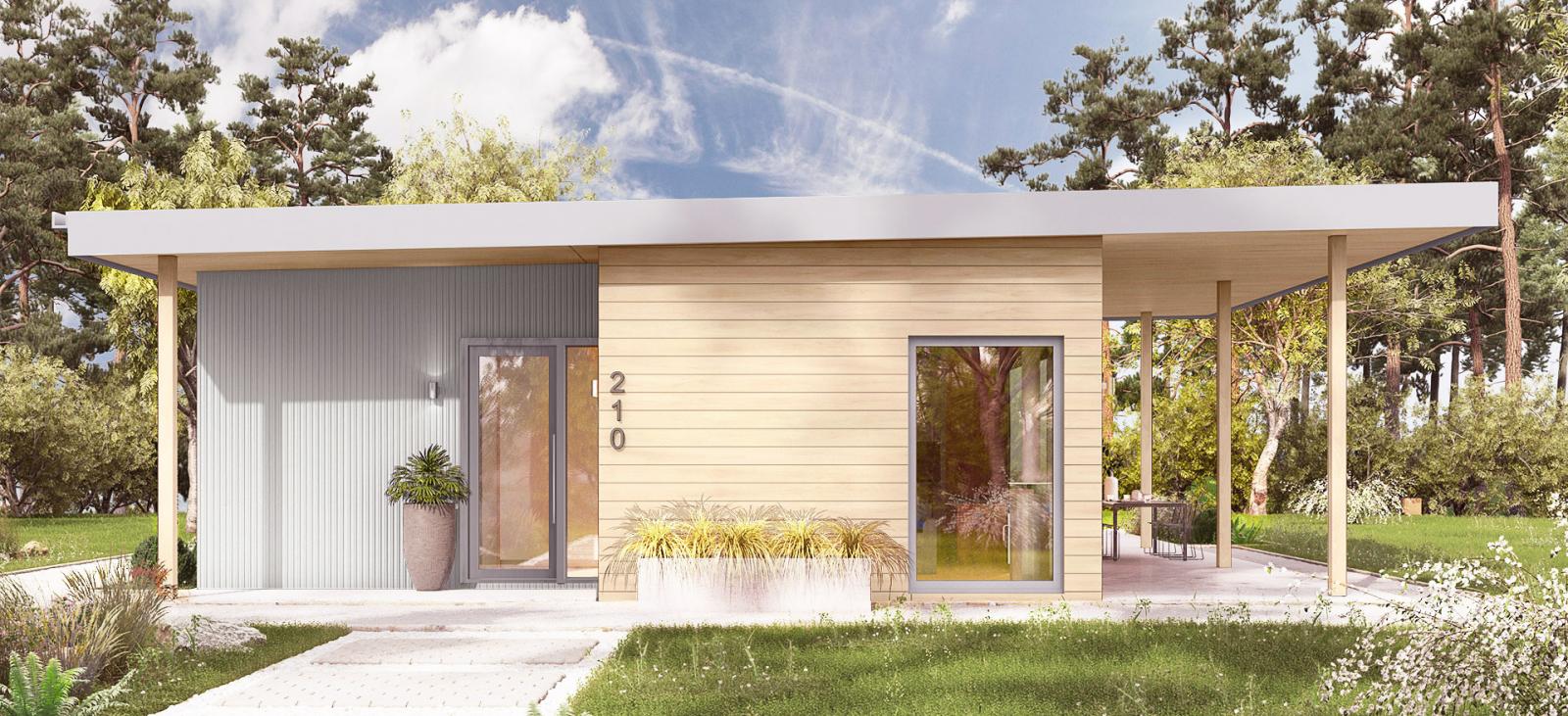 Tenaya Modern Cottage ADU
Sq. Ft.:

1188

(x)

Base Price:

310,000

($261/sq ft)

Total Price:

($/sq ft)
Bedrooms:

2 br

Bathrooms:

full bath
Closets:

full kitchen,

Closets:

Master Bedroom,
Bedroom, Laundry, Entry, Mechanical (indoor),
The Tenaya Modern Cottage by Dvele is a 1188 square foot, single-level, two bed, one bathroom modern modular home.
The home is designed for use as a smaller primary home, a larger accessory dwelling unit, or as a second or vacation home. Interior spaces offers an open, light-filled layout with oversized windows and easy access to front and rear covered deck space.
The entry of this home features a small mudroom and entry wardrobe closet - a somewhat rare luxury in smaller home designs.
Tenaya Modern Cottage Brochure
Angora Modern Cottage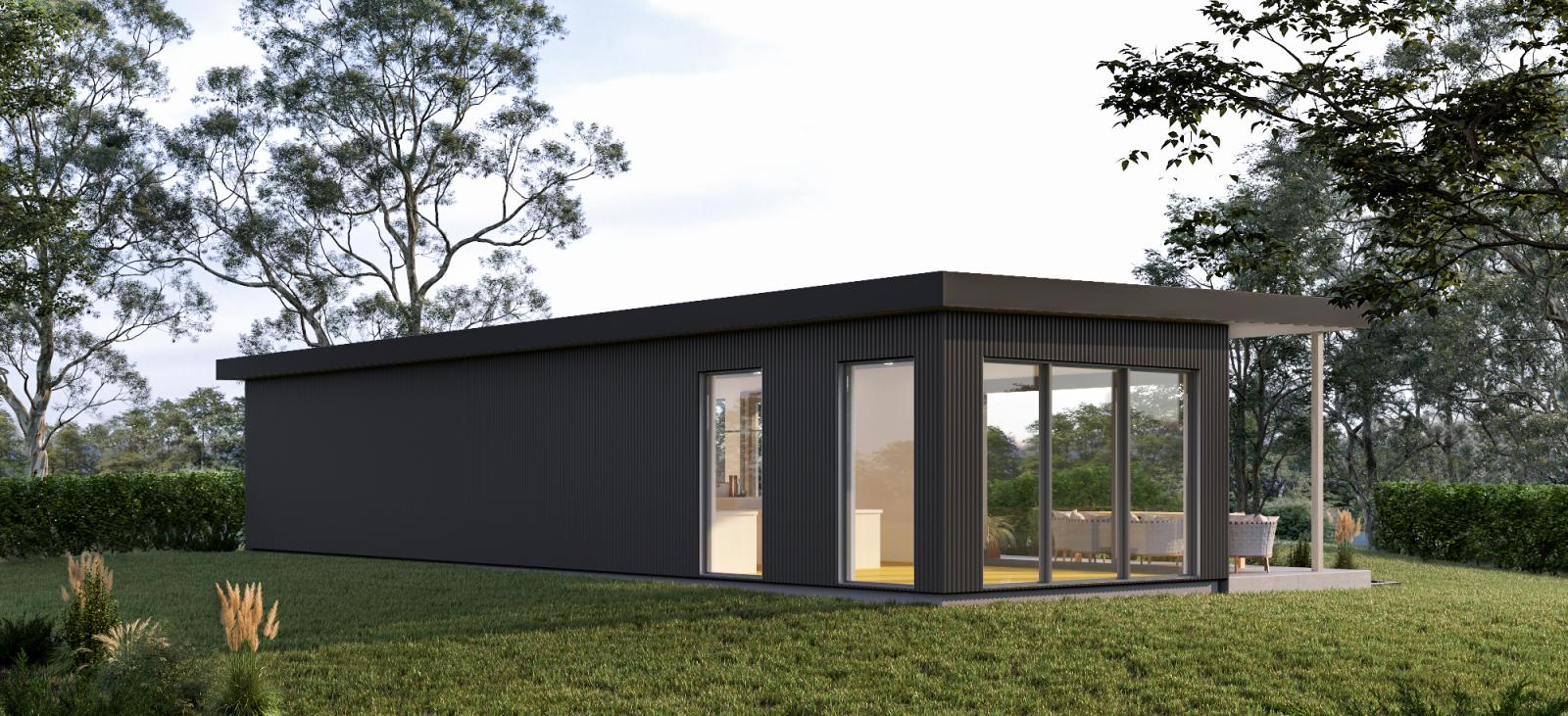 Angora Modern Cottage ADU
Sq. Ft.:

888

(x)

Base Price:

270,000

($304/sq ft)

Total Price:

($/sq ft)
Bedrooms:

1 br

Bathrooms:

3/4 bath
Closets:

full kitchen,

Closets:

Bedroom,
Laundry, Mechanical (indoor),
The Angora Modern Cottage is an 888 square foot, single-level, single bedroom and bathroom home designed for use as a small primary home, or as a vacation home or generously-sized accessory dwelling unit.
The home design features over-sized windows and sliding glass doors which offer easy access to the outdoor covered entry deck and abundant natural lighting inside the home.
The single bedroom floor plan separates the public and private spaces by way of a light-filled hall. The shared living, dining and kitchen space is wide open and surrounded by floor-to-ceiling windows.
A built-in desk adjacent to the kitchen cabinets offers a small workspace in the heart of the home. A separate combined mechanical and laundry closet helps keep things organized and tidy.
Angora Modern Cottage Brochure
Baldwin Mini Home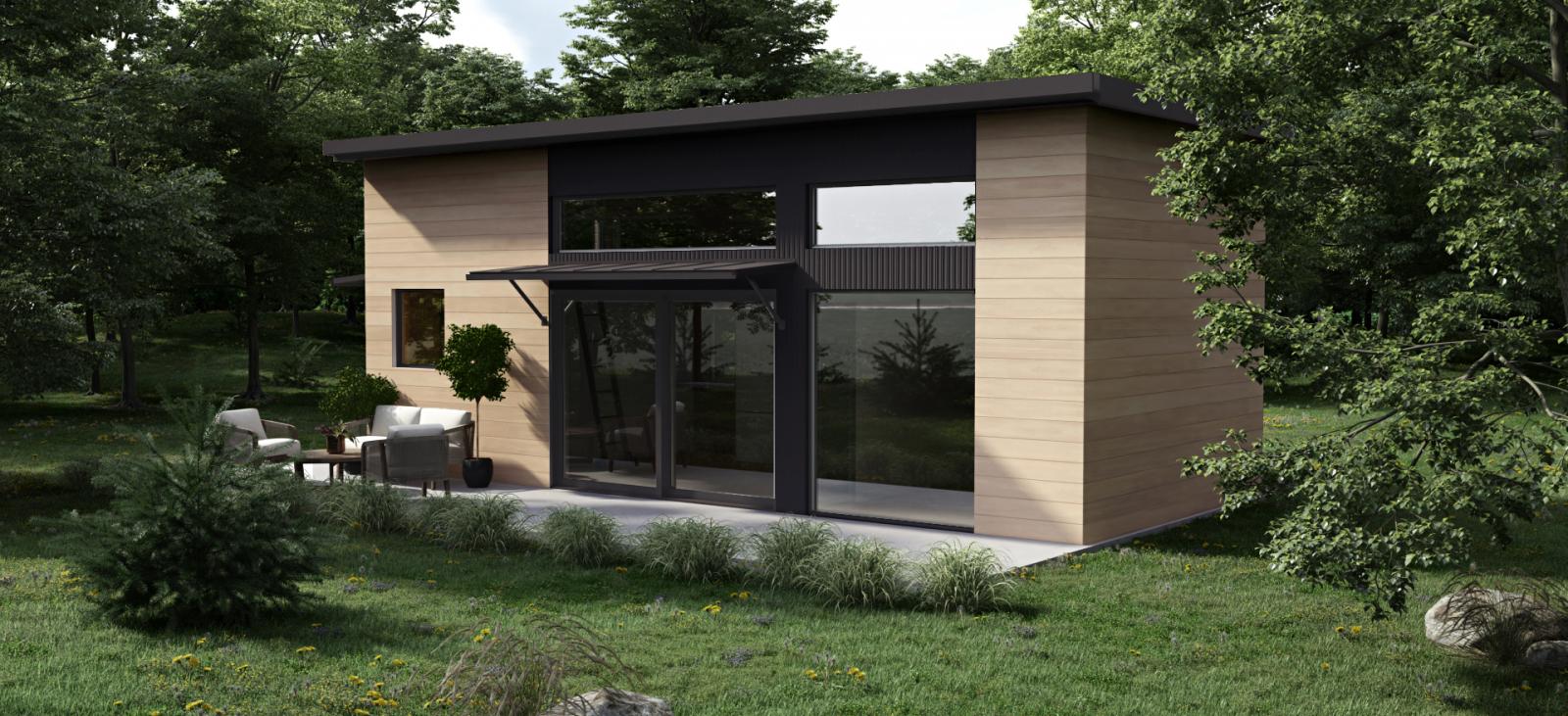 Baldwin Mini Home ADU
Sq. Ft.:

419

(x)

Base Price:

180,000

($430/sq ft)

Total Price:

($/sq ft)
Bedrooms:

1 br (loft)

Bathrooms:

3/4 bath
Emerald Mini Home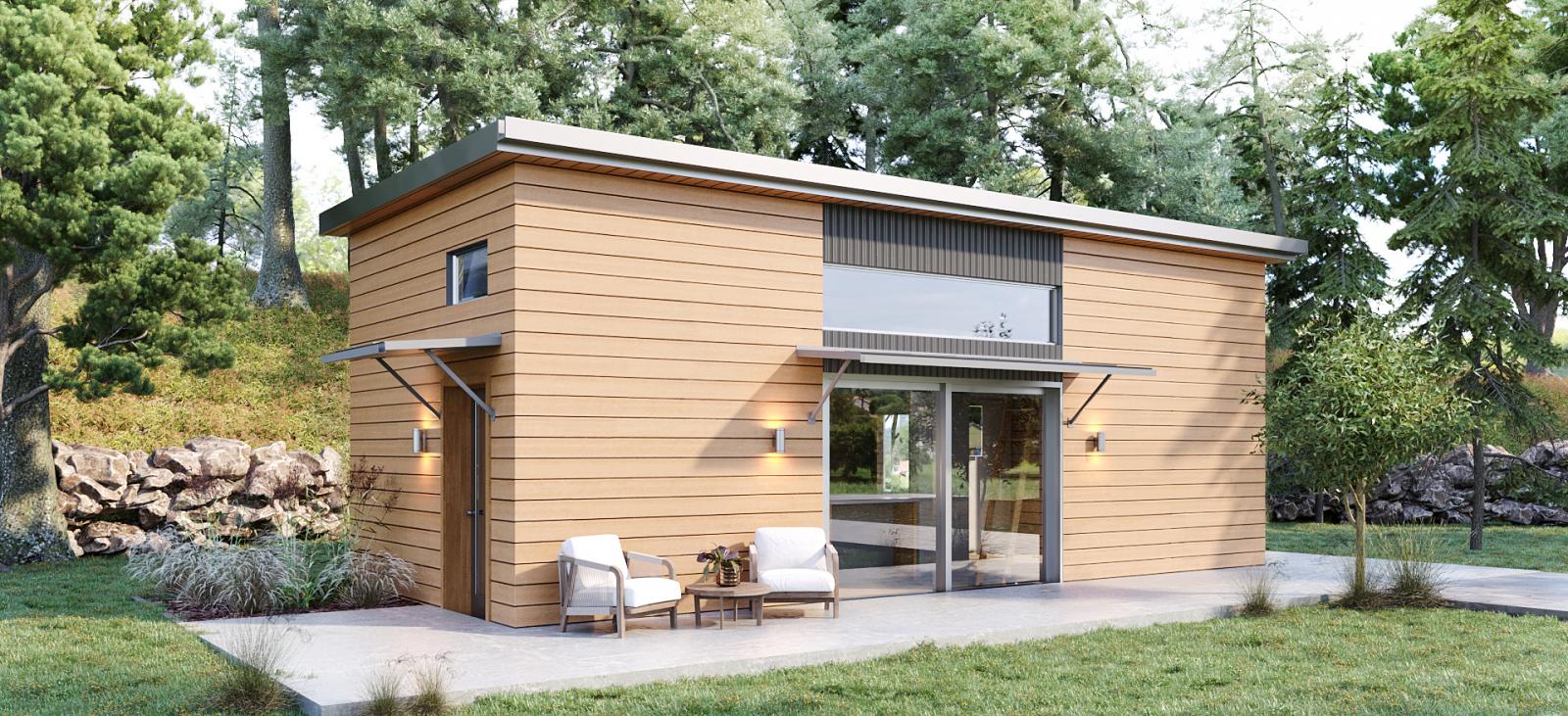 Emerald Mini Home ADU
Sq. Ft.:

419

(x)

Base Price:

165,000

($394/sq ft)

Total Price:

($/sq ft)
Bedrooms:

2 br

Bathrooms:

3/4 bath
Closets:

full kitchen,

Closets:

Laundry,
Mechanical (indoor),
Toluca Mini Home
Toluca Mini Home ADU
Sq. Ft.:

419

(x)

Base Price:

150,000

($358/sq ft)

Total Price:

($/sq ft)
Bedrooms:

2 br

Bathrooms:

3/4 bath